I love being an independent traveler. Spending more than just 3 days in a location, and taking my time going around, exploring the sights and people watch. Spending a longer time at a place allows me to really immerse myself in the local culture and blend in with the locals, thus, learning a side about the city I am visiting that I never knew it had. It also requires a bit more charm for a city to make me want to re-visit, again and again. Amsterdam was such a city for me, and the other being Seoul, South Korea.
I've been to Seoul a few times, and because of that, I had the local subway system mastered at the tip of my fingers. However, as most of my friends know, I am one such person who hates doing things that are utterly complicated. This was one of the main reasons why, even after numerous trips to Seoul, I have yet to visit the famed Nami Island. To commute there via public transportation not only takes time, but requires multiple transfers as well. Now, don't get me wrong. I've done multiple transfers while on day trips to Namhansanseong Fortress and even Korean Folk Village, but compared to the logistics in getting to these places, the route to Nami Island seemed to be more complicated and time consuming.
So, on my last trip to Seoul, I decided to finally visit Nami Island – with Trazy Korea! Booking for the tour was a breeze. Since I've also heard so much about the Garden of Morning Calm, I decided to book a day tour for Nami Island and Garden of Morning Calm! The booking confirmation gave very clear instructions on where you are to meet the guide. I opted to meet in Hongik University area since I was staying there during the last trip. You may also chose to meet in Myeongdong, if that's where you are staying.
At 7am, I started walking towards Hongik University subway station, where my meeting point is. That was where I first met Scott, my guide for the day. To my surprise, the tour only consists of…. me! I booked for a small group tour but because it was non-peak season, it ended up being more of a private tour! After all the necessary introduction, we settled comfortably into Scott's comfortable MPV and the journey to Nami Island began.
Nami Island
The journey to Nami Island took about slightly more than an hour from Seoul in normal traffic, by car. Time flew by during the drive as Scott was keeping me entertained with a lot of interesting Korean facts and stories about Nami Island. After arriving at the Ferry Wharf, Scott was rather worried about me going over to Nami Island on my own, and offered to keep me company. Knowing that he probably has done this trip like a gazillion time before with other groups, I decided to make it easier for him and told him with a laugh that I will be fine on my own but he can take me around Garden of Morning Calm after that, to which he smiled and agreed.
He walked me to the end of the jetty and ensured that I boarded the ferry safely. He also got me an English map of Nami Island and shared some info on where I can get some food and where I need to go to get the ferry back to this side of the island. After that, off I went on my Nami Island adventure!
The ferry took about 5 minutes to Nami Island. The ferry was huge, comfortable and air conditioned. Upon arriving at the Nami Island ferry wharf, I took Scott's advice and veered to the right walking path instead of right down the middle, because that seems to be where everyone is going to. Probably one of the best travel tips I have ever received, as I got to have all my pictures taken, uninterrupted. Being on my own, I had to get creative with the way I choose to take pictures of myself. I made use of benches and rocks, and thank God for self timer cameras on phone, I managed to get a couple of good shots in! 😉
After walking around for a bit, I met another solo traveler, Irene, and since the both of us are on our own, we decided to walk around the island together, so we can help each other take photos! After the initial excitement died down, I realised that a lot of the sights in front of us were rather similar. Occasionally, we come across interesting statues and traditional houses, but honestly, that seemed to be it for Nami Island. The both of us were rather disappointed, so we decided to cut through the walking trek and find a place to eat.
We walked towards the middle, as that was where all the shops and restaurants are located, also where most of the people are. We chose to lunch in Nammoon, a traditional Korean restaurant on Nami Island, and since Irene was feeling a little under the weather, we ordered samgyetang and really enjoyed it. It was almost 1pm after we had lunch, so I bid Irene farewell and walked back towards the ferry wharf, boarded the next ferry and met up with Scott.
"How was it?" Scott asked.
I looked sheepishly at him and honestly admitted that it could possibly be because I visited during the wrong season, but Nami Island was a little overrated for me. Others obviously loved it, as they were excitedly taking their pictures. If there was one thing I absolutely loved about Nami Island, it would be for the fact that books play a very prominent role on the island. Every toilet cubicles, rest place, shops and even decorative houses have books that people can pick up and read. Obviously, they are in Korean language but my love for books absolutely adored this! They even have book cafes in this little island.
"I promise you, Garden of Morning Calm will be worth it! It is beautiful, anytime of the year" Scott exclaimed. I held him to that promise and he was right. It was worth it.
The Moai
"Do you drink coffee?" Scott asked once we entered the car. "Yes! Very much!" I replied.
"Great! I'll take you to my favourite coffee place. It's the best place to drink coffee and it comes with a view too! It's between here and Garden of Morning Calm so it's on the way," he continued.
It was a rather warm day, and I can't wait to get my hands on a cup of cold black coffee. I nodded earnestly.
After driving for a bit, over winding road, we arrived at The Moai. The design of the coffee place took me by surprise! It was not something I had expected. Nestled amidst mountain and nature, The Moai was inspired by the statues from Easter Island and the asymmetrical design with its bright yellow colour was stunning! What I understood was that The Moai is a pension house, and it comes with the cafe, which was where we had our coffee and even a rooftop pool.
Scott and I took a seat by the window, had our coffee, chatted a little, but enjoyed the view in front of us most of the time.
Now that we are both well rested, it's time to finally head to Garden of Morning Calm.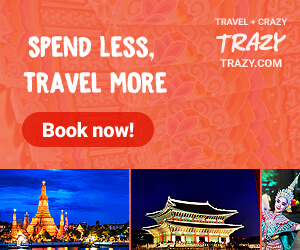 Garden of Morning Calm
This is quite honestly, one of the best garden and park I've ever been to, in all my years of travel. It is said that Garden of Morning Calm is beautiful all year round, any season of the year and because it is so beautiful, it is a place of choice for many Korean dramas (such as Park Bo Gum's Moonlight Drawn By Clouds).
Quite frankly, I am at a loss for words to actually describe how this place looks like. So I will let the pictures do the talking instead.
Let's just say I found the peace that I seek as I took my time and walk around the garden. Uphill, then downhill. Stairs after stairs. Eventually, I came across the smallest church I've ever saw in my life too, that can only fit about 7 people inside. It is also apparently, a very famous wedding chapel.
Enjoy the beautiful pictures below.
So, what's your verdict?
Honestly, if you asked me, Garden of Morning Calm is such an underrated tourist site. More people should know about this amazing place! I learnt that it's actually a privately owned garden, and with more people visiting, the owners are able to maintain the upkeep of the place. Really – it's SUCH A GORGEOUS PLACE!
Nami Island, on the other hand, was slightly a let down for me but I will not give up though. I intend to make another trip to Nami, perhaps during Fall or Spring for the colours.
My first experience with Trazy was incredible. I had an amazing time and I thoroughly enjoyed my guide, Scott's company. I enjoyed his song selections too, thus making the traffic jam back to Seoul bearable. If you're visiting Korea soon, and looking for a trustworthy tour company to take you on any of your day trips, check out the amazing Trazy team here! If you happen to get Scott as a guide, tell him Cindy sent ya! 😉 Happy and safe travels, folks! Oh, and in case you need this, here's a whole list of Seoul Tours and Day Trips offered by Trazy!